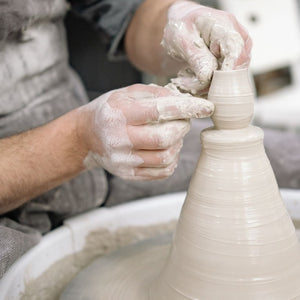 LET'S THROW TOGETHER - corso di tornio livello avanzato
Regular price
Sale price
€380,00
Tax included.
---


Questo corso ti porterà ad approfondire le tecniche di tornitura precedentemente apprese nel livello base. 
Il corso è strutturato in 10 h di apprendimento articolate in 5 lezioni durante le quali imparerai le tecniche avanzate della realizzazione di un manufatto ceramico.
Il programma del corso prevede :  
il cilindro e le sue declinazioni in termini di forma ( teoria e pratica )
i manici - beccucci 

( teoria e pratica )

i coperchi 

( teoria e pratica )



lavorare dalla massa 

( teoria e pratica )



l'assemblaggio 

( teoria e pratica )



Il materiale utilizzato (argilla grès) è compreso nel prezzo, mentre la cottura e smaltatura dei pezzi prodotti è facoltativa e richiedere un contributo extra.
È possibile prenotare a parte una lezione dedicata all'applicazione dello smalto sui pezzi prodotti durante il corso.
Le lezioni si terranno su prenotazione presso il laboratorio Studio Delta Pottery in 
Via Rocciamelone 16/a a Torino.
La frequenza delle lezioni sarà infrasettimanale e a partire dalle 18.00.
Il corso è disponibile anche in inglese!
Il corso ha una scadenza di 3 mesi dal momento dell'acquisto.
Affinché la prenotazione vada a buon fine è necessario acquistare il corso e mettersi in contatto via mail per prenotare le lezioni.
In caso di disdetta non sarà possibile ricevere un rimborso ma sarà necessario procedere con una nuova prenotazione sulla prima data disponibile entro tre mesi dall'acquisto. 
 ------------------------------------------------------------------------------
This course will lead you to deepen the throwing techniques previously learned in the basic level.

The course is structured in 10 hours of learning divided into 5 lessons during which you will learn the advanced techniques of making a ceramic product.

The course program includes:

the cylinder and its variations in terms of shape
the handles - spouts
the lids
throwing from the hump
assembly

The material used (clay grès) is included in the price, while the firing and glazing of the pieces produced is optional and require an extra contribution.
It is possible to book an extra class to learn how to glaze the pots made during the advanced wheel class.

Lessons will be held by reservation at the Studio Delta Pottery laboratory in Via Rocciamelone 16 / a in Turin.


The frequency of the lessons will be midweek starting from pm.

The course is also available in English!